Andre Hollins Named B1G Player of the Week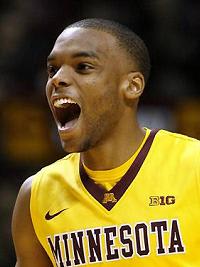 Minnesota senior guard
Andre Hollins
was recognized Monday as the Big Ten Conference's Men's Basketball Player of the Week. It is the second such award for Hollins, and the first for the Gophers this season.
Hollins led all scorers with 27 points in Tuesday's road win at Wake Forest, part of the ACC/Big Ten Challenge. In Winston-Salem, the Memphis, Tenn., native sank seven 3-pointers, a new career high and one off the school record of eight. Hollins also contributed seven rebounds and a steal in the 84-69 victory over the Demon Deacons.
On Friday night against Western Carolina, Hollins again reached double figures with 15 points, adding three assists, three rebounds and a steal in the victory over the Catamounts.
For the year, Hollins leads the team at 14.0 points per game, ranking 17th among Big Ten players. His 3-point field goal percentage of .488 and 2.6 treys per game ranks sixth in the conference.
Hollins last won the award on November 26, 2012. The last Gopher to be recognized with a weekly award was
Austin Hollins
nearly a year ago, named the B1G Player of the Week on Dec. 16, 2013.
The Gophers return to action Monday night, hosting North Dakota at 8 p.m.