Minnesota Lands North Carolina Transfer Dawson Garcia
A homecoming and a huge portal pickup for Ben Johnson and the Golden Gophers.
Minnesota's men's basketball program picked up a transfer portal commitment from former North Carolina and Marquette forward Dawson Garcia on Monday.
The commitment comes after Garcia made a visit to the program on Friday, April 15th.
A native of Prior Lake (Minn), Garcia returns home after spending the first two years of his college career at Marquette and North Carolina.
While only entering the transfer portal earlier this week, Garcia left the Tar Heels back in January due to family-related health issues, which unfortunately resulted in the loss of "several very special family members" as he put in his transfer portal announcement.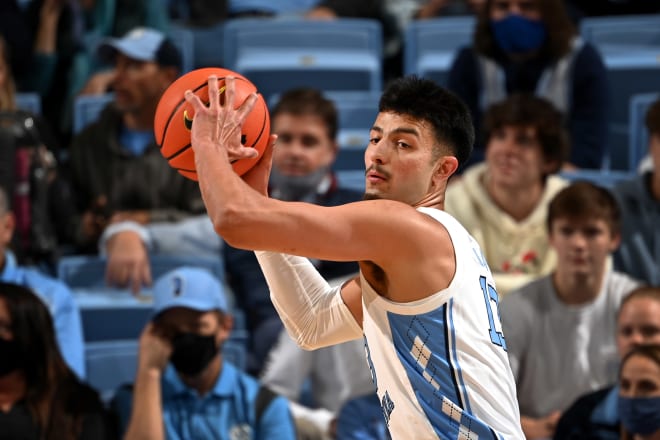 Part of the 2020 recruiting cycle, Garcia was a top-50 player in the country as ranked by Rivals and the nation's 5th best power forward. He committed to Marquette over three other finalists of Indiana, Memphis, and of course, Minnesota.
He was also a 2020 McDonald's All-American and won a gold medal at the 2019 USA Men's 3x3 U18 National Championship where he was tournament MVP and helped lead his team, "Team Attack" to a perfect 8-0 record.
During the 2020-21 season at Marquette, Garcia started 27 games while averaging 13 points and six rebounds per game. He also shot 53.1% from the field and 35.6% from beyond the arc.
Those numbers earned him Big East All-Freshman Team honors.
Last season at North Carolina, Garcia appeared in 16 games averaging 9.0 points and 5.5 rebounds per game. He also shot 40.5% from the field and 37.5% (12-for-32) beyond the three-point line.
Garcia left the the North Carolina program a day after the Tar Heels' 98-76 loss to Wake Forest on January 22nd.
With Minnesota, Garcia is expected to make an immediate impact and fill the role left by Eric Curry who exhausted his eligibility this past season. Curry averaged 7.7 points and 5.8 rebounds over 27.7 minutes per game this past season.
Per TarHeelIllustrated, Garcia is expected to apply for a hardship waiver from the NCAA in order to play immediately at Minnesota. They also indicated that UNC would aid in the process and there is a high likelihood that the waiver would be granted.
SCOUTING REPORT:
TarHeelIllustrated.com basketball analyst David Sisk has followed Garcia's career throughout high school and college.
He gives a full breakdown of his game and what Garcia is expected to bring to Ben Johnson's Minnesota program:
"Keep in mind that Dawson Garcia did not play after January 22, but he still participated in 16 games, and was still able to present a reasonable body of work. He averaged 9.0 points and 5.5 rebounds in 20.6 minutes of play. He shot 40.5% overall, 37.5% from three, and 79.2% from the foul line."
"At 6-11, 235 pounds, Garcia is more of a four than a five. He is not a quick twitch type of athlete. He uses skill more than raw physical play. He also isn't necessarily the guy you want to assign to a big bruising back to the bucket center. Garcia is also more effective in the half-court. He is not going to be out on a sprint in front of the fast break."
"What Garcia will bring is half-court versatility. He is lengthy and can rebound defensively. He can also switch onto certain perimeters. Offensively, he has a well versed skill set. His three-point shooting numbers are good, but he doesn't shoot them in bulk. It is a smaller dynamic in a bigger repertoire. Only 32 of his 116 shot attempts last season were from behind the arc. He is enough of a threat to draw the defense out and put the ball on the floor. He can get to the rim and also has a nice mid-range pull-up game."
"Garcia isn't a pick and roll guy, but he can effectively pick and pop for the three, and/or pop and drive when he attacks the closeout. He also is a pick and post up type. If he gets the switch he likes to take the smaller defender to the block and then use a wide array of back to the basket moves. He can also finish over bigs down low with his length as well. He has a counter for just about every one of his inside moves."